Inspiring Personal and Professional Development
VERONICA LAC, PHD. LPC
Founder & Executive Director
Dr. Veronica Lac has 25 years of experience as a corporate trainer and mental health professional providing her with an integrated perspective to equine-facilitated work. Her academic background includes a Masters in Training and Performance Management, a Masters in Gestalt Psychotherapy, and a PhD in Psychology. She is trained in a number of models of equine-facilitated work, including a mentorship in Adventures in Awareness with Barbara Rector, a groundbreaking influence in this field. This has allowed her to combine her theoretical understanding into a relational and embodied approach. Veronica is passionate about bringing a cultural competence framework into the equine-facilitated field.
Veronica was a UKCP Registered Psychotherapist in the United Kingdom, and since moving to the United States in 2011, has gained licensure as a professional counselor. She specializes in working with eating disorders, trauma, and attachment and has developed equine and canine-assisted programs for at-risk adolescents in collaboration with residential treatment centers and eating disorder clinics. She is also a PATH International Certified Therapeutic Riding Instructor for clients with cognitive, physical, and emotional disabilities, and a Certified Equine Specialist in Mental Health and Learning. Veronica believes that research is the key to supporting equine-facilitated psychotherapy as an evidence-based modality and has multiple publications internationally in peer-reviewed journals. Veronica currently serves on the Board of Trustees for PATH International, and a Governance Committee member, as well as a founding member of their Diversity, Equality and Inclusion Committee. She serves on the Executive Board of a number of professional organizations including American Psychological Association Division 32 (Secretary), University Professors Press (Editor), and The Humanitarian Alliance. She is also a peer-reviewer for The Journal of Humanistic Psychology, and The Humanistic Psychologist.
Veronica is the recipient of the 2022 APA Division 32 Camri Harari Early Career Award from the American Psychological Association. This award recognizes outstanding contributions for innovative applications in the field of Humanistic Psychology.
The HERD Institute
SARAH MOREHOUSE, MCOUNS
Senior Instructor and Operations Executive
Sarah Morehouse is a graduate of the University of Edinburgh, receiving her Masters in Counselling (Interpersonal Dialogue). Sarah is a PATH Intl. Certified Therapeutic Riding Instructor and a HERD Institute® EFP and EFL Graduate. Sarah is also a certified Equine First Aid and Disaster Preparedness Instructor through Equi-Health US, as well as a certified Equine Nutrition Instructor through A Stable Connection®. Sarah has been working at The HERD Institute® since 2018.
The HERD Institute
KATIE WHEELER
Finance and Membership Manager
Katie is a graduate of The Ohio State University with a degree in forest management. After working in the forestry industry for several years she accepted a full time position as barn manager and finance manager for a therapeutic riding center in central Ohio that she had been working part time for since moving to central Ohio in 2003. She continued this work until having her son in 2019. Recently she moved to Northeast Ohio with her husband, son, two dogs and two horses to live closer to family. She loves being part of the HERD Family!
The HERD Institute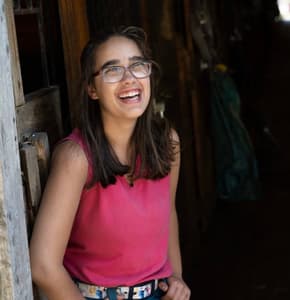 DIANA BEZDEDEANU
Executive Assistant
Diana Bezdedeanu is a HERD Institute® EFL Level 1 graduate. As a former student, she is thrilled to expand her role within The HERD community to aid incoming students throughout their own certification journeys. When not assisting The HERD Staff, Diana can be found at the barn, visiting with her 2 Off-the-Track Thoroughbreds, both of which are therapy horses in her EFL program in Massachusetts.
The HERD Institute
ALISON MCCABE, MS, GEP, LPC
Senior Instructor
Alison McCabe is a Licensed Professional Counselor and certified Gestalt Equine Psychotherapist (2013). She is a graduate of Prescott College with a concentration in Equine-Assisted Mental Health. She offers equine sessions for individuals, couples, and families. With a background in education, she has developed programs for teens to learn about horses, and has facilitated a wide range of workshops and equine-facilitated learning experiences.
The HERD Institute
DANIELLE MILLS, BACP, EFPL
Senior Instructor
Danielle started a successful nonprofit in the UK named Pony Partnerships. She specializes in working with children and young people in a variety of settings including psychiatric inpatient care, community mental health, education, and residential care within the statutory, private and voluntary sector. She has earned several degrees and certifications in the Equine and Mental Health sectors. Danielle graduated from The HERD Institute's Equine Facilitated Psychotherapy training in 2018.
The HERD Institute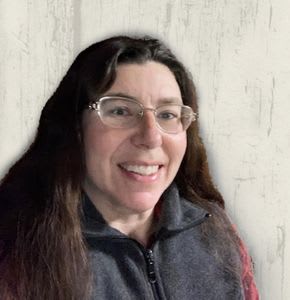 RACHAEL LOUCKS, MAED
EFL Senior Instructor and Program Manager
Rachael knew she wanted to be able to combine two of the topics she loves: education and horses. After much research and schooling, she found the HERD Institute most closely matched her philosophy of teaching and Rachael jumped in with both feet! These days, Rachael enjoys facilitating learning through interactions with horses through her program UP THERE, as well as supporting Veterans, active service members, and their families through her Non-Profit Operation Horses Heal.
The HERD Institute
ELIZABETH MCCORVEY, LCSW
EFP Instructor
Elizabeth McCorvey, LCSW, is a psychotherapist living in Hendersonville, NC. She works with college students at UNC-Asheville, is an EFP Instructor at The HERD Institute, and has a private practice where she works with adults in an EFP setting. Elizabeth is a passionate advocate for anti-racism and equity in the Mental Health world and frequently facilitates workshops and consultation events for therapists on the subject.
The HERD Institute
SAM THORPE
EFL Level 1 Instructor
Sam is the Founder and Executive Director of Equi Evolution, in Cumberland, RI. Sam lives in Cumberland, RI with her husband, 3 children, and many fur babies. She has a BSBA from Bryant University, where she studied Business and Psychology and has taken coursework in Equine Studies at Johnson & Wales University. She is an MA certified riding instructor and has extensive experience in EAAT (Equine-Assisted Activities & Therapies) including therapeutic riding, Hippotherapy, and EFL (Equine-Facilitated Learning). She is certified in Level 1 EFL through The HERD Institute and has over 20 years of experience coaching.
The HERD Institute
KATIE FALLON
EFL Level 1 Instructor
Katie is the founder and president of Bridle Paths, is a PATH Certified Advanced Level Therapeutic Riding Instructor with over ten years of experience teaching children and adults with a wide range of physical, cognitive, behavioral, and other disabilities. She is certified as an Equine Specialist through the Equine Assisted Growth and Learning Association, a Certified Equine Specialist in Mental Health and Learning through PATH Intl., and a Level 1 EFL graduate through The HERD Institute.
The HERD Institute
JENNIFER BAKER
EFP Faculty in Training
Jennifer Baker, LCPC, TCYM-YT, is a psychotherapist, trauma conscious yoga teacher, and Faculty in training for The HERD Institute. Jennifer has a private practice in the Chicago, IL area. Jennifer works with a wide array of adults integrating traditional talk therapies, equine facilitated psychotherapy, and mind body practices. Jennifer is a culturally sensitive, LGBTQIA+ affirmative therapist, with a deep commitment to BIPOC community. Jennifer has completed post graduate studies from The Trauma Conscious Yoga Institute, The HeartMath Institute and graduated training at The HERD Institute.
The HERD Institute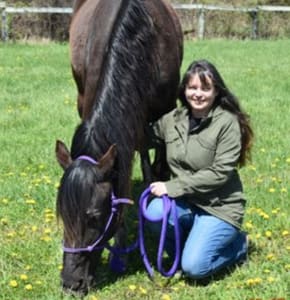 SARA RIETSCH
EFP Faculty in Training
Sara Rietsch LPC, CAADC is a psychotherapist in Michigan. She spent 15 years working in the horse industry before returning to school with the goal of being able to provide equine facilitated psychotherapy. She is also a certified Equine First Aid Instructor. After working in multiple settings focusing on substance use treatment, she now has a private practice that focuses on supporting multiple pathways to recovery and neurodiversity-affirming approaches to therapy.
The HERD Institute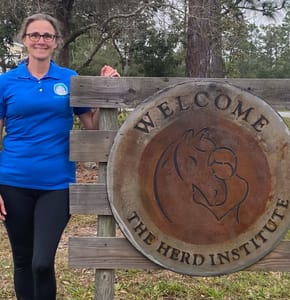 MARSHA KRANTZ
EFL Level 1 Instructor and Mentor
Marsha Krantz CTRI, ESMHL, is a lifelong equestrian committed to serving others through horses. With over a decade of experience as a therapeutic riding instructor and equine specialist at a PATH Intl. Premier Accredited Center, Marsha has been involved in creating and delivering equine facilitated sessions to a wide range of clients including veterans, first responders, elementary and high school programs, and working with the elderly. Marsha is a PATH Intl. Registered Mentor and a HERD EFL Level 1 & 2 graduate. Her passion is to teach and mentor others to help more people serve their community.
The HERD Institute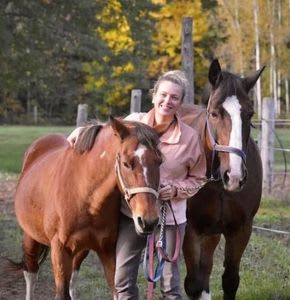 BRANDIE MILLAR
EFL Instructor-in-Training
Brandie Millar grew up in Vancouver, British Columbia, and spent all of her free time at the barn. She spent years gaining experience as a working student on the show circuit, working as a riding instructor, and assisting local veterinarians at a variety of small and large animal clinics. Her interests eventually led to the airline industry where she became a leader at a national airline, creating their first ever mentorship program for flight attendants, and helping implement a Transport Canada approved evaluation system for employees based on celebrating their strengths, and abolishing the scoring system. After a few years in the sky, life pulled her back towards horses. She realized that there was a community of like minded individuals who wanted to celebrate the magic of horses and share that joy with people around them. Since joining the HERD, Brandie has devoted her time fully to EFL, whether it be working with her clients and horses, building her business, or continuing her learning in this field. "Wherever you go, go with all your heart." Confucius
The HERD Institute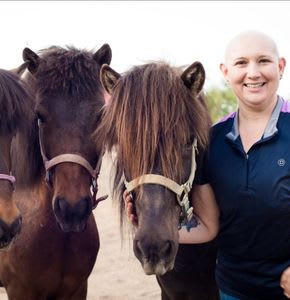 ELLEN LICHTENSTEIN
EFL Instructor-in-Training
Ellen Lichtenstein is a professional writer and content marketer who turned her two biggest passions (communication and horses) into her business Leg Up Learning Solutions in 2020. Since then, she's completed EFL Level 1 & 2 with The HERD Institute® and has begun building her practice with a focus on professional women and members of the LGBTQ+ community. Prior to joining The HERD, Ellen received her B.S. and M.A. in communications and spent more than 15 years working in media production and corporate communications everywhere from The Discovery Channel to software startups. Ellen lives in Colorado with her 4 horses, 3 cats, 2 dogs, and 1 husband.
The HERD Institute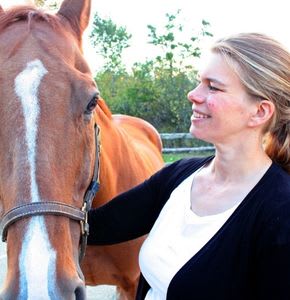 CHRIS GOODALL
EFP Instructor
Chris Goodall, LISW-S is a co-founder and clinical director at In Step With Horses, a non-profit organization in northeast Ohio that specializes in connecting horses and people for improved mental health. Chris has been incorporating horses into social work for over 15 years. She instructs a course on Equine Assisted Psychotherapy and Learning at Lake Erie College. Chris enjoys working with youth, first responders and veterans and is proud to have been part of the HERD from the beginning.
The HERD Institute
REBA
Reba is a 21 year old AQHA chestnut mare, whose registered name is Star Dually. She has had an extensive career, having been a broodmare, reining and cutting show horse, and a kids lesson and trail horse. She has been enjoying a well deserved quieter pace of life. Reba has moved with Veronica from Virginia to Ohio to Florida, and has been introduced to therapy work with adults and children. She is a sweet-natured girl and loves to be groomed and loved on, and has a generous heart for those in need of her wisdom. With her markings of a white blaze and four white stockings, she brings a distinctive flair to the herd. Reba excels in teaching participants about what it means to trust another in a relationship.
The HERD Institute
CHEYENNE
Cheyenne is a 16 year old quarter horse mare with a gentle and loving soul. She was a part of a therapeutic riding program for students with physical, cognitive, and emotional challenges, and now is enjoying her time with The HERD, in a quieter life. Cheyenne is blind in her right eye but this doesn't stop her from living life to the full. She is a curious and attentive girl who loves to interact with everyone around her. Cheyenne has been introduced to therapy work with adolescents and is a master at teaching the importance of boundaries, self regulation, and the impact of one's actions within relationships. With her stunning white mane, she could easily be mistaken for a unicorn, and is almost as magical!
The HERD Institute
ARROW
Arrow is a 17 year old quarter horse gelding with a calm and sweet disposition. He was rescued from a bad situation and retrained as a trail and ranch horse. Now, he loves spending his days munching on grass and relaxing in the Florida sun. His willing demeanor and curious spirit makes him a wonderful member of The HERD. Always the first at the gate to meet and greet newcomers, his energy and playfulness shines through. He brings his big, powerful, and solid presence into each interaction with complete authenticity.
The HERD Institute